Kisan Mandhan Yojana | PM Kisan Mandhan Yojana 2021 PMKMY Registration Online Apply at maandhan.in and Pradhan Mantri Kisan Maan Dhan Scheme Eligibility, Check Pradhanmantri Kisan Pension Yojana Status here. प्रधानमंत्री किसान मानधन योजना , The PMKMY is also known as Pradhan Mantri Kisan Maandhan Yojana. This is again one of the most famous schemes from the Government of Prime Minister Narendra Modi of the country. This PMKisan Maandhan Scheme Registration is introduced by the government in order to help poor and marginal farmers of the country.
Details of Kisan Mandhan Yojana 2021
| | |
| --- | --- |
| Name of Scheme | Pradhan Mantri Shram Yogi Maandhan Yojana |
| State | India |
| Launched By | Pm Narendra Modi |
| Launch Date | August 2021 |
| Objective | old age protection and social security of Unorganized workers. |
| Beneficiary | All India |
| Monitored By | Agriculture & Farmers Welfare & Co-operation Department |
| Helpline Number | 1800 267 6888 |
| Official Website | Click Here |
| Category | Govt Scheme |
PM Kisan Mandhan Yojana 2021
To Apply online or enroll for PM Kisan Maan Dhan Yojana 2021 Online Form you need to visit the official web portal first www.pmkmy.gov.in. After that, you will find all the information regarding Pradhan Mantri Kisan Maandhan Pension Yojana. Also, you can visit the nearest CSC to enroll in PMKMY 3000 Pension Scheme Application Form. The maandhan.in application form is available on the official web portal you just need to fill it with the valid documents. Note that this scheme is only for marginal farmers. Interested Farmers need to check प्रधानमंत्री किसान मनधन योजना eligibility criteria before they fill PMKMY Registration Form Online 2021.
PM Kisan Pension Yojana Registration
To give Financial protection and social security for Small and Marginal Farmers the Pradhan Mantri Kisan Man Dhan Yojana is started. This is a fully central government scheme. Other then it is also popularly known an प्रधान मंत्री किसान पेंशन योजना. First of all look at the premium which the government has set for all the applicants under PMKMY. Following that, we will elaborate you with PM Kisan Pension Nidhi Scheme Registration 2021 procedure. All the candidates need to understand every point of Pradhan Mantri Kisan Maan Dhan Yojana Application Form Date 2021.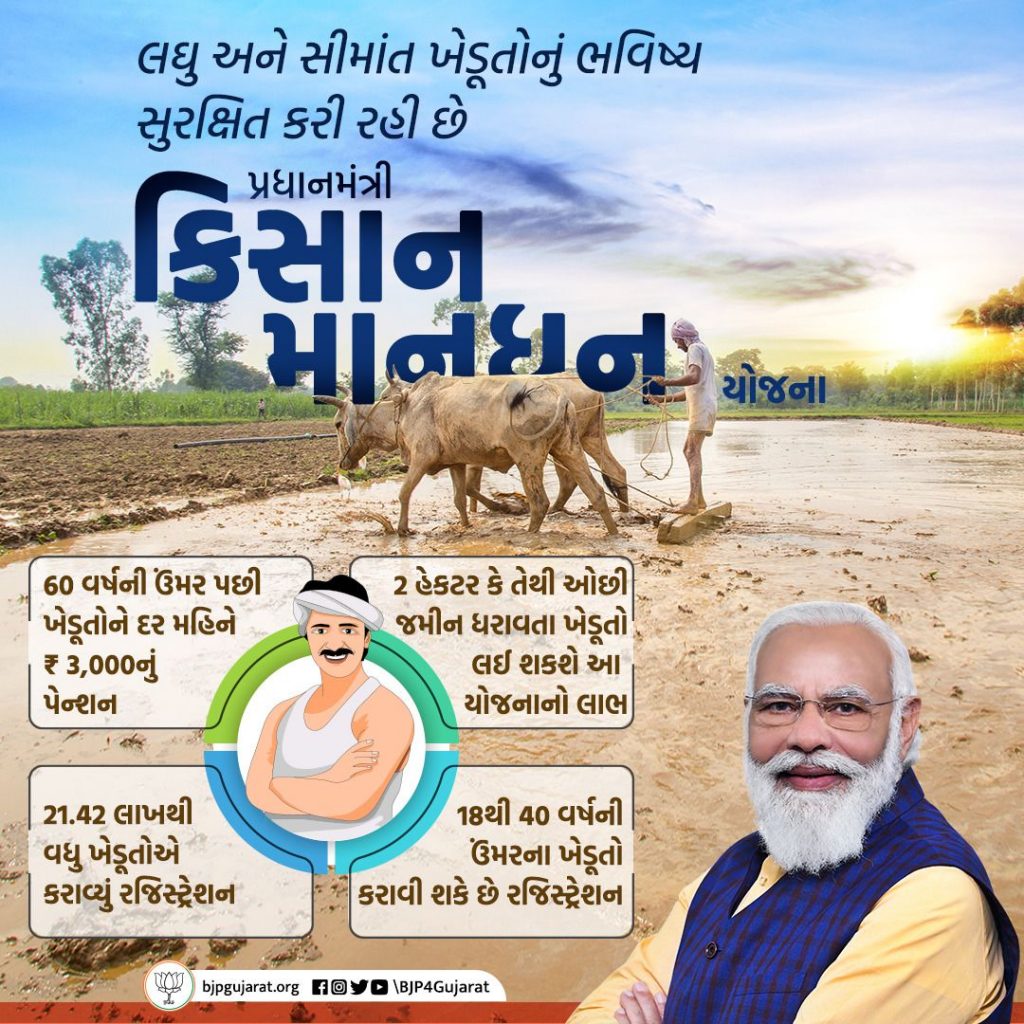 PMKisan Mandhan Premium As per Applicant age
| | |
| --- | --- |
| Applicant age | Premium |
| 18 | 55 |
| 19 | 58 |
| 20 | 61 |
| 21 | 64 |
| 22 | 68₹ |
| 23 | 72 |
| 24 | 76 |
| 25 | 80 |
| 26 | 85 |
| 27 | 90 |
| 28 | 95 |
| 29 | 100 |
| 30 | 105 |
| 31 | 110 |
| 32 | 120 |
| 33 | 130 |
| 34 | 140 |
| 35 | 150 |
| 36 | 160 |
| 37 | 170 |
| 38 | 180 |
| 39 | 190 |
| 40 | 200 |
For registration of PMKMY 2021, you need to belong to small and marginal farmers first. Through the help of CSC, you can easily fill the registration form and submit it with documents. We suggest that you apply through CSC only. The chances of making mistakes will be less in the online form of PMKisan Mandhan Yojana Registration 2021 if you fill it in from CSC. The Kisan who are eligible and still have not applied for PM-KMY have to apply online at maandhan.in to get all benefits of this scheme.

Who is Eligible for this Scheme
For Unorganized Workers (UW)
Entry Age between 18 to 40 years
Monthly Income up to Rs 15000/-
Features
Assured Pension of Rs. 3000/- month
Voluntary and Contributory Pension Scheme
Matching Contribution by the Government of India
Documents needed for PMKMY Online Registration 2021
The PMKMY is for old age Pension Yojana for Farmers. Small and Marginal Farmers are eligible for this Scheme. However, before applying for Pradhan Mantri Kisan Pension Yojana, the Following are the documents needed for PMKMY 2021 Registration –
Aadhaar card
Mobile number
Age certificate
Income certificate
Khashra Khatauni of Land Area
Identity card
Farmyard measles
2 Passport size photo
Savings Bank Account / PM KISAN Account (any one will be required)
So before applying for PM Kisan Mandhan Yojana all the aforesaid documents must be kept ready in the original. Once the verification is done you will get the benefits of this scheme.
How to Apply Online For Pradhan Mantri Kisan Maandhan Yojana Registration?
There is a two-way facility to apply online for Pradhan Mantri Kisan Maandhan Yojana Registration i.e Using Mobile Number & OPT and Second Using CSC Connect Here are the following steps to apply online for PMKMY Registration 2021 which is here as follows. We are specifying steps to register through CSC:
Register Steps for Self registration using Mobile No:
Visit the website first Maandhan Yojana.
Tap on the link register online which is on the landing page.
The moment you will tap there, they will ask about your mobile number.
Add the details also like the name of the applicant, email id, and then captcha code.
Then application form will be in front of you. Start filling it by giving your all details.
In the end, it will calculate your age, which will be automated.
You need to transfer the premium amount and submit the form.
Important Links
Frequently Asked Questions – FAQ's Kisan Mandhan Yojana
How can we contact officials in case of any problem related to Kisan Mandhan Yojana ?
Reach them at 1800 267 6888 which is their helpline number. Or else you can email them at vypari@gov.in or shramyogi@nic.in
How To Apply Kisan Mandhan Yojana ?
You Can Apply To Official Website Www.maandhan.in
Will we need to give premium monthly in PMKMY?
Yes, till the time you turn out by the age 40, you have to give a monthly premium.
SarkariMahiti.In for latest updates, SBI Jobs, IBPS Jobs, BOI Jobs, Clerk Jobs, Probationary Officer Jobs, CA Jobs, MBA Jobs, MBBS Jobs, Peon Jobs, Binsachivalay Clerk Jobs, Police Jobs, Constable Jobs, Exam Pattern, Syllabus, Exam Result, Government Schemes, Government Jobs, Private Jobs, General Knowledge, Current Affairs, and other many more information for this site…. Thank You.
Join WhatsApp Group : Click Here
Join Telegram Channel : Click Here
Job Alerts in your Email : Subscribe