anubandham.gujarat.gov.in – Free Registration | Log in | Web Portal Launched by Govt. Of Gujarat "રોજગાર દિવસ" અંતર્ગત ૦૬ ઓગસ્ટ, ૨૦૨૧ ના દિવસે મેગા જોબ ફેર નિમિતે ૫૦,૦૦૦ નિમણુંક પત્રોનું વિતરણ તથા રોજગારી માટેના વેબ પોર્ટલ અને મોબાઈલ એપ્લિકેશન "અનુબંધમ" નું લોકાર્પણ માનનીય મુખ્યમંત્રીશ્રી વિજયભાઈ રૂપાણીના હસ્તે થયુ.
Anubandham Web Portal Details
| | |
| --- | --- |
| Government Of Gujarat | Directorate of Employment & Training |
| Department | Employment and Training Department |
| Registration | Click Here |
| Log in / Sign | Click Here |
| Job Location | Gujarat |
| Registration Steps | Click Here |
Gujarat Government has provided …Anubandham Portal How to Register Anubandham In Gujarat | A jobseeker or candidate is a person who is looking for a viable employment (job) opportunity. 'Anubandham' portal and Mobile App for Jobs Anubandham Gujarat Government will give appointment letter to 50,000 youth on the Rojgar Divas 06-08-2021
"हर हाथ को काम, हर खेत को पानी" Anubandham is platform to bring together Job Seeker and Job Provider at one place. : Vijay Rupani, Chief Minister of Gujarat
Our vision is to develop Gujarat as a hub for skilled workforce across country and internationally. : Dilipkumar Viraji Thakor, Minister of Labour and Employment, Disaster Management, Devsthan, and Pilgrimage Development
Directorate of Employment & Training, DET
is working under the Department of Labour and Employment, Government of Gujarat. It was formed in Gujarat State in 1971 by amalgamation of the Employment Wing, functioning under the Labour Directorate, and the Vocational Training Scheme under the Directorate of Technical Education.cd
Two statutes have been enacted by the Govt. of India to help in achieving the objectives of higher employment in organised sector through training.
★★ You Can Also Check ★★
Functions of DET
DET functions with the major objectives of providing Vocational Training and Employment Services to the youth in Gujarat State. To achieve these objectives the DET runs a variety of long-term and short-term training programmes in Industrial Training Institutes/ Centers in the State.
It also registers the youth looking for employment and provides placement services to them through Employment Exchanges that also maintain the list of prospective Employers.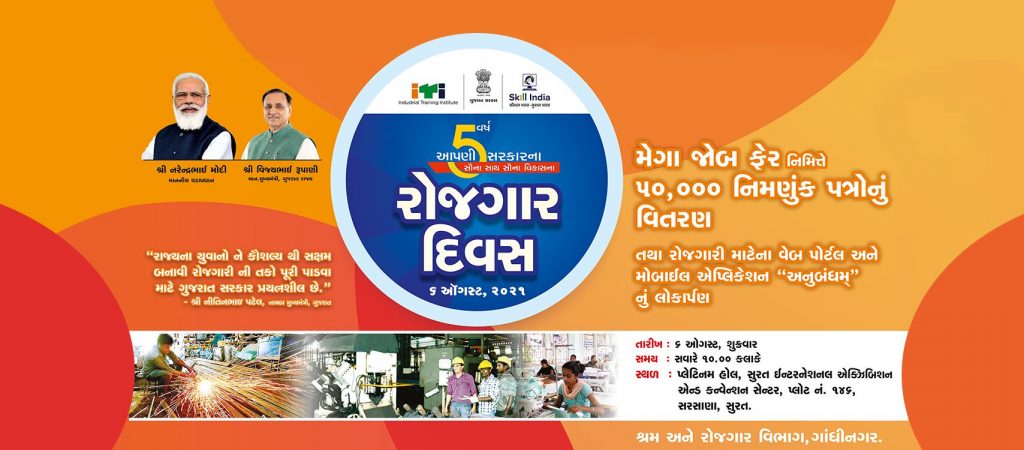 Directorate of Employment & Training, Government of Gujarat has been in the forefront of implementing various skill-building programs with the aim of helping people get jobs. At present 48 employment exchanges are functioning under this Directorate to assist people registered with employment exchanges.
Employment Exchanges the state have been chasing the placement of the registrants with the employers in the affective manner with the innovative approaches of industrial recruitment rallies in industrial areas of the state and with the close liaison with the employers.
Gujarat No.1 in providing Employment through Employment Exchanges.
How to Registration On Anubandham Web Portal
Steps for Anubandham Portal Registration Click Here
JOB Seeker
Anubandham Web Portal Job Seeker Registration : Click Here
Anubandham Web Portal Job Seeker Log in : Click Here
User Manual Job Seeker : Download [PDF]
Employer
Anubandham Web Portal Employer Registration : Click Here
Anubandham Web Portal Employer Log in : Click Here
User Manual Job Provider(Employer) : Download [PDF]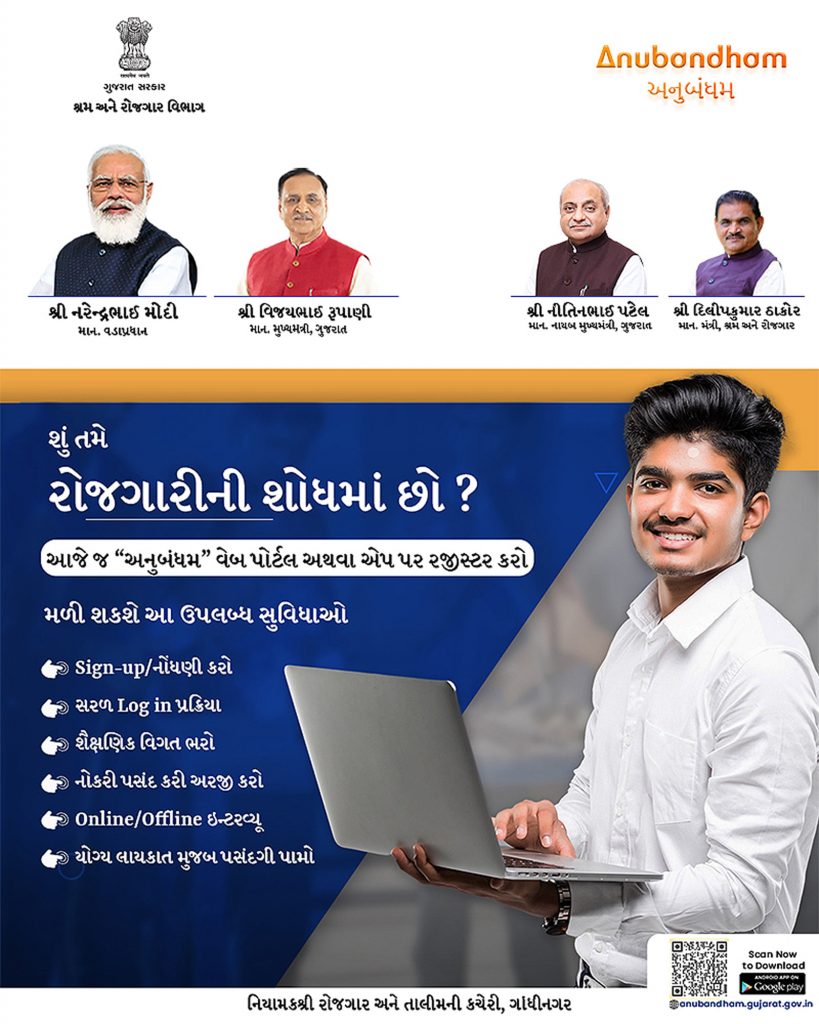 SarkariMahiti.In for latest updates, SBI Jobs, IBPS Jobs, BOI Jobs, Clerk Jobs, Probationary Officer Jobs, CA Jobs, MBA Jobs, MBBS Jobs, Peon Jobs, Binsachivalay Clerk Jobs, Police Jobs, Constable Jobs, Exam Pattern, Syllabus, Exam Result, Government Schemes, Government Jobs, Private Jobs, General Knowledge, Current Affairs, and other many more information for this site…. Thank You.
Join WhatsApp Group : Click Here
Join Telegram Channel : Click Here
Job Alerts in your Email : Subscribe