How to Link Aadhaar with PAN Card Online & Check Status
How to Link Aadhaar with PAN Card Online & Check Status : Linking Aadhar with PAN has become mandatory because your income tax return would not be processed if your Aadhar is not linked with PAN. Also, if you have to carry out a banking transaction above Rs. 50,000, you have to get your PAN and Aadhar linked.
Linking PAN card with an Aadhaar card is very simple and the government has provided various methods to do that. The deadline for linking PAN with the Aadhaar card is 30 June 2021. Know more about How to Link Aadhaar with PAN Card Online in this article.
How to Link PAN Card to Aadhaar Card Online through @www.incometaxindiaefiling.gov.in
People can get their PAN and Aadhar linked online by following the steps mentioned below:
Step 1. Step 1. Visit the Income Tax e-Filing website and click on the 'Link Aadhaar' option under the quick links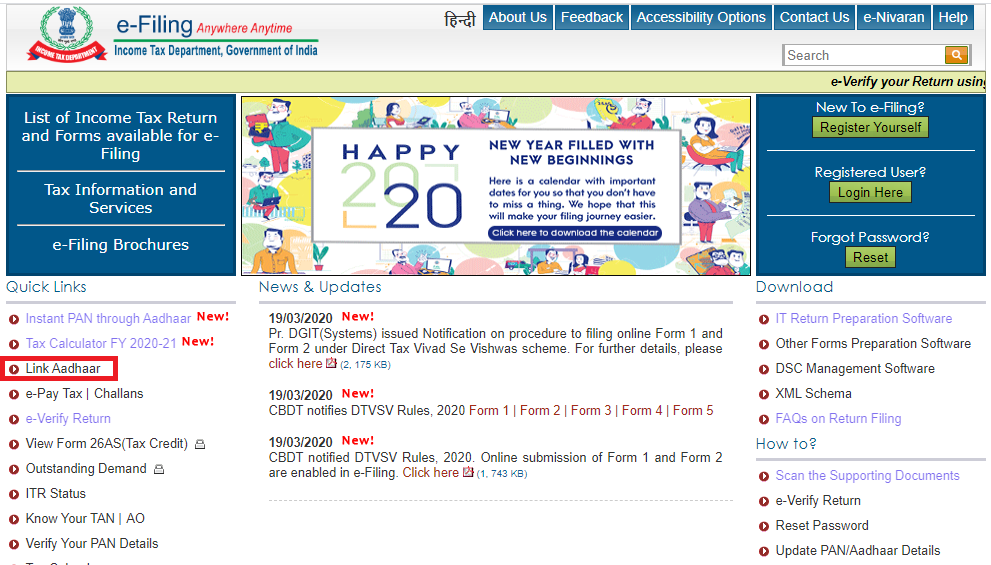 Step 2. Enter your PAN and Aadhaar number
Step 3. Enter the name as mentioned in your Aadhaar card
Step 4. In case, if only the date of birth is mentioned on your Aadhaar card and you have to tick the square
Step 5. Tick mark 'I agree to validate my Aadhaar details with UIDAI'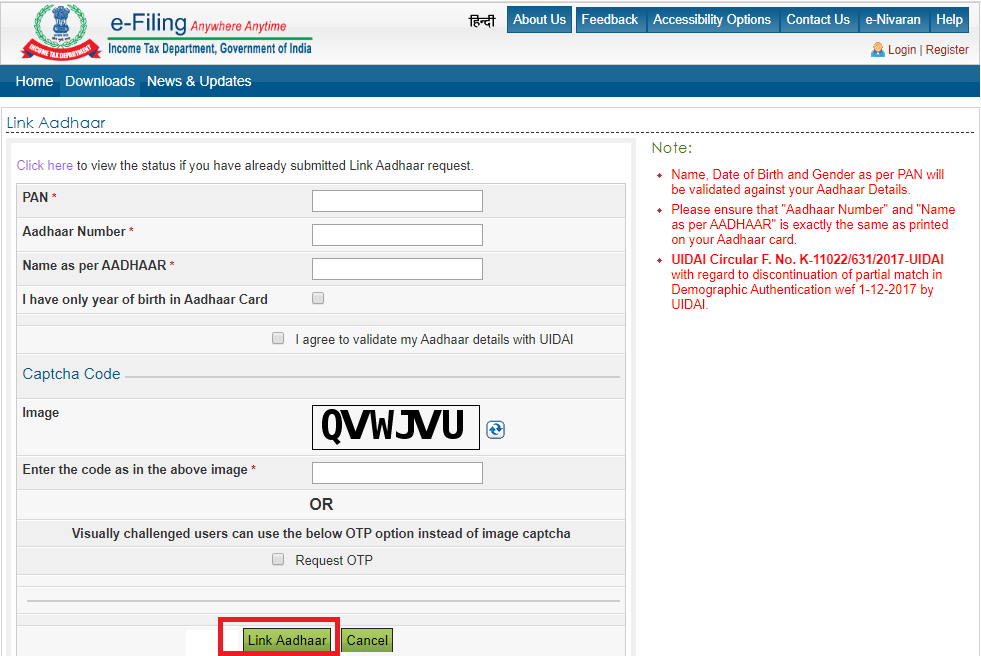 Step 6. Now, enter the 'Captcha Code' mentioned in the image for the verification
Step 7. You need to click on the 'Link Aadhaar' button
Step 8. A pop-up message will appear showing your successfully linked Aadhaar with PAN Card
Note: Visually challenged users can request for an OTP that will be sent to the registered mobile number instead of the captcha code.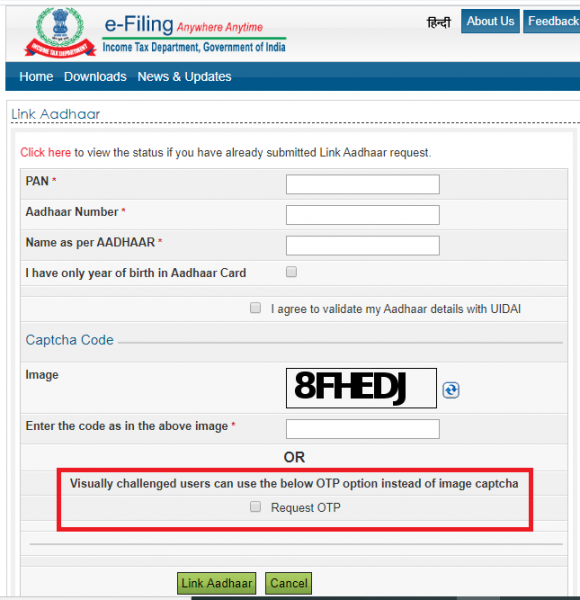 ★★ You Can Also Check ★★
How to Link Aadhaar with PAN By SMS
In order to link your Aadhaar to PAN, follow these steps:
You have to type a message in the format
UIDPAN<12 Digit Aadhaar> <10 Digit PAN>
Send the message in the above-mentioned format to either 567678 or 56161 from your registered mobile number
For example, if your Aadhaar number is 987654321012 and your PAN is ABCDE1234F, you have to type UIDPAN 987654321012 ABCDE1234F and send the message to either 567678 or 56161
How to Check My PAN Card is Linked with Aadhaar Card or not
To check PAN-Aadhaar link status, follow the steps mentioned below:
Step 1: Visit the e-Filing Income Tax Department page i.e. https://www1.incometaxindiaefiling.gov.in/e-FilingGS/Services/AadhaarPreloginStatus.html
Step 2. Enter your PAN Number
Step 3: Enter your Aadhaar Number

Step 4: Now, click on the 'View Link Aadhaar Status' button
Step 5: You Aadhaar-PAN link status will appear on your screen
Q. Is there any other process to link the two?
Right now, there are only two processes. The user has to get his documents linked by any one of the processes.
Watch Video :
FAQs on Linking PAN-Aadhaar
Q. What is the deadline for linking PAN Card with the Aadhaar Card?
The deadline for linking PAN Card and Aadhaar card is 30 June 2021.
Q. Do I have to submit any documentary proof to link my PAN and Aadhaar Card?
Linking PAN with Aadhaar is a very simple process. You can do it online or via SMS. You do not have to submit any document proof.
Q. What are the details I have to check when linking my PAN with my Aadhaar card?
You have to check your name, gender, and date of birth when linking your Aadhaar Card with PAN Card. In case there are errors, you can get them rectified before linking both documents.
Q. My name is different in a PAN Card and Aadhaar and it is not allowing me to link both. What to do?
In such a case where the name on the Aadhaar Card is completely different from the name in the PAN Card, you will have to get your name changed in the database of either Aadhaar or PAN for PAN Aadhar link.
SarkariMahiti.In for latest updates, SBI Jobs, IBPS Jobs, BOI Jobs, Clerk Jobs, Probationary Officer Jobs, CA Jobs, MBA Jobs, MBBS Jobs, Peon Jobs, Binsachivalay Clerk Jobs, Police Jobs, Constable Jobs, Exam Pattern, Syllabus, Exam Result, Government Schemes, Government Jobs, Private Jobs, General Knowledge, Current Affairs, and other many more information for this site…. Thank You.
Join WhatsApp Group : Click Here
Join Telegram Channel : Click Here
Job Alerts in your Email : Subscribe